Driven by creativity,
collaboration and a passion for
the digital world in business.
Our inquisitive team specialise in understanding our clients and can bring their visions to reality.
We believe the key to a successful project is through the collaboration of minds.
We take care of our clients and offer aftercare; it doesn't just end with the deploy.
Our Services
Web Development
Websites are an essential brand touch point to have as part of any business strategy. Here at Innovixx we develop online experiences, personalised and tailored according to your company values. We utilise concepts, wireframes, prototypes and usability testing to ensure every project is designed with thought.
Our Services
Graphic Design
Graphic design is an integral part of modern-day marketing and advertising. Our company specialises in creating visually stunning graphics that ensure you capture the attention of your target audience. Our team of experienced designers have the creative and technical skills to effectively convey your message in an eye-catching way. Our services include logo design, branding, marketing materials and more.
A Change Of Perception
For LLadds Bookkeeping, we set out to create an impactful website design that would defy the perception of what accounting and bookkeeping had traditionally represented. With the addition of custom illustrations and micro animations, the brand was brought to life. We had the challenge of delivering an effective website with a straightforward content management system, which was met successfully.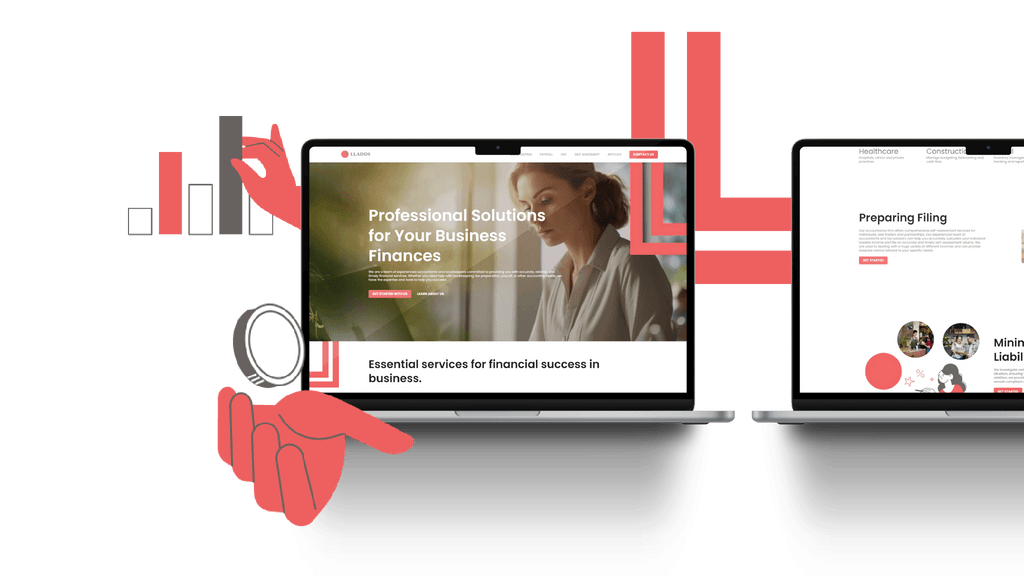 Natural Design Touches
Redeswood approached us to build them a website that would highlight their services and enable their business to reach a wider audience in the Northeast area. We wanted to give them a website that would be modern with touches of natural textures and colours, that would effectively reflect the arboriculture industry that they work within.
Designed For Beauty Lovers
SOS Beauty collaborated with Innovixx to bring their digital vision to life. We designed a mobile app with the aim to connect beauticians and clients, providing both users with a smooth experience. Through a process of wireframing and prototyping, the design was successfully handed over to our client's development team to build. This bold and eye-catching design is sure to make an impact in the beauty industry.
A Fresh New Look
Spent Shells approached us for a fresh update to their digital presence that would improve the user experience and increase conversion rates. We wanted to enhance the eCommerce experience, making it easier for users to discover the products they love.
A New Era
Our team collaborated with Aether Compliance to create a website that would match their new brand design. To increase conversion rates, we created an intuitive website with a well-organized content structure. We also incorporated modern elements to the interface, such as improved navigation and responsiveness, resulting in a polished and user-friendly experience.
Bring your product to life & take your business to the next level.
At Innovixx, our team of experienced professionals offers the highest quality of development and design services. We work with clients across the UK to create custom solutions that are tailored to their specific needs. Contact us today to learn more about how we can help you reach your goals.
Extremely Professional Service
"Absolutely fabulous and extremely professional service from start to finish! Highly recommended and to be able to work with us to bring our vast website forward and to deliver what was promised."
John Elliott
Owner of Elliott Military
Faultless!
"Wonderful company and a very talented team! They kept me up to date with the progress all the way through and the end product was just incredible; better than I could have imagined. Highly recommend!"
Leanne Ladds
Lladds Bookkeeping & Accountancy
Great Company Would Highly Recommend
"I have contracted Innovixx several times over the last 18 months for both design work and web development and they never disappoint. The team really take the time to listen to your needs and consistently deliver high quality work always within the agreed upon timeframes. For anyone looking for a straightforward, creative and hardworking design and development company then I would highly recommend Innovixx."
Emma Harding
PocketCarer
Frequently Asked Questions
Here you can find answers to common questions about our development and design process, capabilities, and more.